PuzzleMasters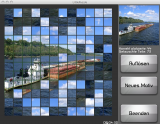 PuzzleMasters
Puzzle
Version: Beta 1.3




Developer:
Hyde
d-bug

Your mission in PuzzleMasters is to solve the jigsaw puzzle.
Different difficults 16 to 1024 pieces are possible.
Additional you can change the level of difficulty with TAB. Hard - all tiles can be moved. Medium - tiles which has been placed correctly can't be moved again. Easy - graphical hint where the selected tile should be put.

Of course it's possible to play your own pictures.

Thanks to hamZta and Blitzcoder for compiling the PPC and the Linux applications.
up to 1024 pieces
graphical solve help
own motives
sound