CocoaExtension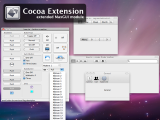 CocoaExtension
WIP
Version: 0.04alpha

SVN-Repository

Developer:
d-bug

Extended Cocoa gadgets and functions for MaxGUI.

For all of you, asking themselves why all those features announced in my worklog aren\'t avaible in the downloadable version over here: I\'ve got a SVN-repository for CocoaExtension in wich all my latest changes can be found. See link above!
Extended Toolbars
+ labels
+ icon size of 32x32 and 24x24
+ complete customization support in release mode
+ separator-, space- and flexiblespace items
+ flexiblespace item support for iconstrips
+ supports buttons, textfields segmented-controls as item in toolbar
+ searchfield
Extended Buttons
+ support for all styles of the NSButton class
+ four different button behaviours
+ complete icon positioning flags of NSButton
+ switch-button with three states
+ alternate state support
Extended TextFields
+ support for all styles of the NSTextField class
+ support for recent-searchtags in SearchFields
Extended Menus
+ support for adding new items to the application-menu
+ support for localizing default items in the application-menu
Extended Requesters
+ Sheet support for Confirm, Notify, Proceed, RequestFile and RequestDir
New Gadgets
+ PopUp- and PullDown-Buttons
+ Segemented-Control Gadget
+ Stepper
See module documentation for extended gadgets and functions.